little about Nerf penetration. Yesterday, there was a message that's
Read more
What Mausenka will not – it's true, but about penetration testing, we received the following comments from WG
"just to get more the amount of data we can now say that the nerf soon will not be because you need to analyze in detail the data "
in patch 0.9.9 edits bugs with fly-bys through the tanks would not;
instead Mäuschen tank in place of the German TT 9 level VK 45.02 (P) Ausf. B, Mammut customized tank will not, but the final decision on the car there;
punishment for TKs are already working on the test;
M.Zhivets officially stated: "According to Art SAU package of changes and improvements It has already been approved for prototyping and subsequent testing. Improvements both balanced and gameplay with new mechanics. It aimed at the class to become more comfortable to use, but less annoying for other players. There are no revelations, all in varying degrees, has been discussed in different places. Just picked it all together. ";
BT-7 Artillery – a gift tank, will be given to all likely to birthday Wargaming-a

[1,999,027] AMX 13 57 again can get on the market as a kit with limited time sale

concerning timers refer squares retracting vanshotov, etc – nothing has changed, everything will be done, time – KTTS;
concerning alleged zabagovannost big test – Tests were worse where dozens Criticals. Caught other problems. With regard to the fact that the short commands and clicks on the minimap are only the first couple of minutes chatting in the team, too, and in the "Steel hunting" chat command is present, although the team is not – it is setting up the test server and its environment. On superteste your settings and supertestery is no way to catch can not be;
M.Zhivets played like WoT game from the competition, and here and there there are problems, as in the WoT;
bug with the disappearance of the tank guns Mäuschen, that arcade sight that sniper when you look at it, is known, correct,
do not worry that the new German LT 7 level Spähpanzer SP IC, which will replace Aufklärungspanzer Panther is an overview of less than VK 28.01 and lower than any other 7 LT level – the car has not yet been tweaking;

[1,999,027] by the fact that two members of the crew, the German radio operator and loader LT 7 level Aufklärungspanzer Panther retrain German premiumnyh CT "Panther mit 8,8 cm L / 71" – this is not a bug;

[1,999,027] what is going on in the test, that is, with the art of ACS that her TKs that it shows the fact, as far as all already tired of this, "bush" class of technology – it is not "tired", is the work of the media ";

hear the sound of the reference, even when the client at boot time – this is the old" bug ";

presence in the statistics solo mode "Steel hunting" of "Flags" when they do not – just do not cut off from the old version;

native body from the M47 Patton wanted to add when pumping towers until the far KTTS; [1,999,028 ]
privedenki changes in the turret of the Soviet PT Level 10 T-62A in translating it in HD quality, a maximum of +/- 10 mm;

[1,999,027] tracks on the sides of the German premiumnyh ST level 7 Panther / M10 in kollizhn model added.

size size tanks OI 100 and E-100 are wrong.
Additionally, I want to say about the wrong size. I do not have access to CT, and I can not personally verify all the information listed above were made screenshots and unfortunately, as I understand it, they were made in a different perspective, the actual size of look something like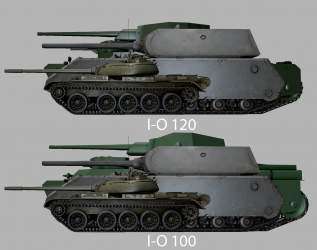 Source link.