Tankers!
On December 3 9:00 (GMT) December 5, 8:30 (GMT) in the game will take action, dedicated to the birthday of Soviet engineer Mikhail Koshkin. At this time, you expect:
Specials
50% OFF on the following technique:

Discount 30% to following technique:
Martial problem
" Descendants" tridtsatchetvёrki ""
Objectives

Disable at least two cars of the enemy in battle

Awards

1 serving Doppayka

Constraints
Random battles.
Exodus fight does not matter.
tasks can be performed 10 times a day.

Results are reset every day at 3:00 (GMT)

.
tasks can be performed on the following techniques:
A-20
T-34
T-34-85
A-43
T-43
A-44
T-44
Object 416
T-54
Object 430 Option II
T-62A
Object 140
Object 430
SU-85
SU-100
SU-100M1
---
"The aim is destroyed"
Objectives
Kill at least one enemy machine for the fight from the following list:
A-20
T-34
T-34-85
A-43
T-43
A-44
T-44
Object 416


T-54
Object 430 Option II
T-62A
Object 140
Object 430
SU-85
SU-100
SU-100M1
Awards

1 Large Kit

Constraints
Random battles.
outcome of the battle does not matter.
Problem can be performed 10 times per day.

Results are reset every day at 3:00 (GMT)

.
Any technique I

V-X level
Remember that all current active World of Tanks you can learn from .
Good luck on the battlefield!
Historical Background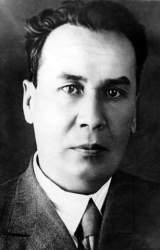 Mikhail Koshkin was born December 3, 1898 in Yaroslavl province in a poor family. In 10 years, graduated from the parish school and went to work in Moscow, where he worked at the candy factory. In 1917 he was mobilized, a year later volunteered to train a group of Red Army. He participated in the battles of the Archangel against Wrangel's troops on the southern front.
In 1924, he graduated from the Communist University of the Sverdlov and began promoting the party line, showing himself as a talented director. In 1929 he was sent to study at the Leningrad Institute of Engineering. After his graduation he worked at the Leningrad Kirov Plant, participated in the design of the T-29 and T-111.
Since 1936 Mikhail Koshkin began working at the Kharkov plant number 183 that produced light tanks BT. In 1939, his design bureau proposed two project future tanks: wheel-track A-20 and its purely tracked version of the A-32. In the future, the A-32 was to become the most famous and massive Soviet tank T-34.
Mikhail Koshkin – contradictory and controversial figure in the history of Soviet tank. It is believed that he was a brilliant engineer, ahead of the era. According to another version, he was a party careerist little understanding of armored vehicles. But the fact remains that if it were not organizational skills and assertive Mikhail Ilyich, it is unlikely "tridtsatchetvёrka" would get way in life.
One thing is for sure: The Cat's never been afraid to take responsibility for decisions solutions and has been closed to new and unusual. His fate confirms this view. On tests of the T-34 mileage in early 1940 Cat was in one of the machines. Together with her in the cold and the road he traveled from Kharkiv to Moscow. In a way the designer had a cold and was ill severe pneumonia. Even ill, he continued to lead the work on "tridtsatchetvёrkoy." And then the disease worsened, and September 26, 1940 MI Koshkin died.
In 1942, the designer was awarded the Stalin Prize posthumously. In 1990 he was awarded the title of Hero of Socialist Labor.
& gt;
Source link.