Tankers!
On the entertainment resources WarGag . ru completed weekly contest " Conversations in the ranks " for the period from 2 to 8 June. Authors of the best screenshots and combat chat channel messaging in the game with the witty remarks of the week in the near future will be rewarded
7 days of premium account. [1,999,018 ]
acquainted with the rules of the competition can be here .
1. legionerrome :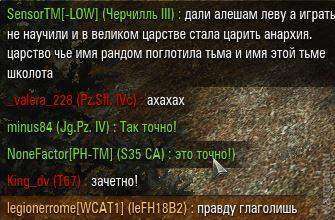 2. DVDMawn :
3. MAXsim007 [1,999,007]
Source link.