Hello, friends.
Start a new game of the week in Wargaming.net League for 18 of February
TYL and 4GP show excellent results this season and last week strengthened their positions. The more interesting of today's joint match, which starts the fifth stage of the League group stage.
The defeated last week's team Vega Squadron play with Shadows . Do recovered "sharks" from a major defeat? Learn tonight.
Broadcast started February 18 – at 20:00 Moscow time on the news, in our Twitch-channel and Online Leagues .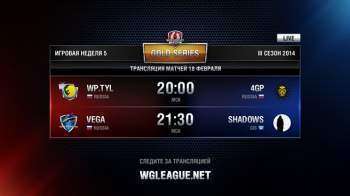 Click to watch recordings of matches
Schedule for the week
Matches February 19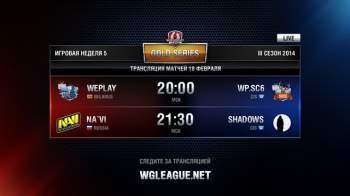 Opinions
Comment from player EVG Andrew Beshkarёva aka eL_Pride :
Y EVG is now extremely difficult situation in the league. In order to stay in the top flight, we need to win all the remaining matches, including a game against TYL . Unfortunately for us, the season is failed completely. Goals set before the season, we are not satisfied, and now you have to pay for it.
Comment from the team Vega Squadron :
Hello everyone. The fifth game of the week starts for us on Wednesday, February 18 with a match against Shadows . Let them new to the Gold Series, but has fared well and have proven themselves. We will hold the second match on Friday February 20th against the strong, in our opinion, the Arcade takes the second place in the standings.

We put a lot of effort to prepare for this two game days and hope that it will surely bring results. Let it be beautiful and exciting game!
Comment by captain WePlay Artem Slozhenikina aka Ups :
The season for us to ask, but we do not lose hope to cling to the opportunity to continue the fight in the Gold Series . All the meetings we plan to very aggressively to try to score points.
You can watch the matches, install applications WG Stream .
all the basic information about the League can be found in Guide Wargaming.net League .
Remember how passed fourth week Gold Series .
Follow the news:
Watch the video:
Source link.