Saludos Amigos
continues seventh, final game of the week in the Wargaming . net League Gold Series .
On Friday, play four teams, and three of them are today's matches are extremely important. WP.SC6 and WP.TYL are fighting for a place in the top four, RoX.KIS can also make phenomenal finishing spurt and continue the fight in round of the playoffs after disastrous start to the tournament.
Broadcast started March 6 – at 20:00 Moscow time on the news, in our Twitch-channel and Online Leagues .
Schedule for Friday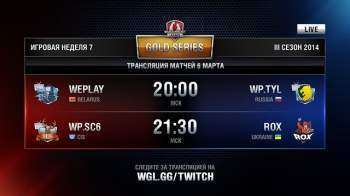 Click to watch recordings of matches
Separation Natus Vincere and HellRaisers from the competition was enough to not worry about the tours on LAN-finals. Despite this, the leaders are not full-time to relax before the meeting on Saturday. Opponents coolly defeated.
best moments
March 4, two incredible match. Shadows had to win, to fight for an exit in the playoffs, and the match with outsiders WePlay are suitable for this could not be better. The greater was the surprise of "Shadows", when after a successful start of the match they managed to lose the initiative and play.
Last week RoX.KIS broke a protracted series of setbacks and managed two wins in a row. On Wednesday they met with formidable Arcade , which were also badly needed glasses. The match went tense, and the result – sensational. "Roxy" trying to get into the playoffs at the last minute and do everything possible and impossible for it!
best moments
Opinion of the week
Sergey Kutuzov aka Stam71, captain WP.TYL :
Last match for us, by and large, does not solve anything. To take fourth place, only our victory is no longer enough: it is also necessary to have lost his match SC6 . In any case, we will play to win in order to break a protracted series of setbacks and return it to the team winning attitude before the playoffs.
Eugene Ryazanov aka SANTACLAUS captain WP.SC6 :

After a fight with NSS we regained fourth place in the standings. Next we have to match against a team RoX.KIS , which in recent fights apparently "came to life". To save the positions we need a win, and we will make every effort to get it.

soon start preparing for the playoffs, which I am sure will be fun. Follow the events!
Andrew Beshkarёv aka eL_Pride team player EVG :
In spite of the disastrous season, we have a chance to get into the playoffs and compete for access to LAN -final. To do this you need to do just a little – to defeat Na`Vi . To the world champions no special training: we will play as aggressively as before.
all the basic information about the League can be found in Guide Wargaming.net League .
Remember how passed sixth week Gold Series .
Watch the match is to install an application WG Stream .
Follow the news:
Watch the video:
Source link.