Hello, fans of the tank tournaments!
Group Stage Wargaming . net League goes to the finish line, not far off the stage of the playoffs. The teams is running out of time to strengthen their tournament position. On the sixth game of the week will be held eight games, and all of them strategically very important.
Broadcast started February 25 – at 20:00 Moscow time on the news, in our Twitch- channel and Online Leagues .
Matches environment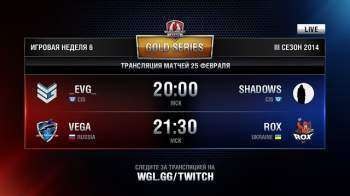 Click to watch recordings of matches


Schedule for the remaining days
Opinion of the week
Team Manager Na`Vi Dmitry Repin aka de1uxe :
Our last match was not quite smooth – allow too many mistakes, and opponents are well tuned to us. We conclude, therefore plan this week to play more confident. Do not miss our games!
Team Captain WP.TYL Sergey Kutuzov aka stam71 :
In the last round, we unfortunately lost, much to weaken their chances in the fight for 3-4 places. Now we need to win the remaining two matches. What to say about N a`Vi ? About them it's all said many times, will not be repeated. We have to win, no other choice, so we will try.
Team Captain WP.SC6 Eugene Ryazanov aka SANTACLAUS :
At this point, the team takes fifth place standings. We suffered two defeats against teams Na`Vi and Arcade , where we lacked a bit of experience and luck to win.

The main task – to get into the top four, it will greatly simplify our position in the playoffs. To do this you need to win the remaining two matches against NSS T eam and Ro X.KIS . Fights are coming responsible, it is unlikely they will give us a little blood.
all the basic information about the League can be found in Guide Wargaming.net League .
Remember how passed fifth week Gold Series .
Watch the match is to install an application WG Stream .
Download WG Stream
Follow the news:
Watch the video:
Source link.