Saludos Amigos
Wargaming.net League in full swing. In the third game of the week in the case finally enter the world champions Natus Vincere led by his youngest captain Anatoly Barakova aka TheAnatolich ! In their otstutstvie happened a lot of interesting. Fans WePlay and RoX.KIS require their teams qualitative leap in the game and the results HR and Arcade has confirmed his class and NSS Team so insolent that continue to trample on all challengers in their path. This week they will meet with the champions last season, and it will be a real test for daring beginners!
Broadcast started February 5 – at 20:00 Moscow time on the news, in our Twitch-channel and Online Leagues . Can not miss!
Schedule for February 5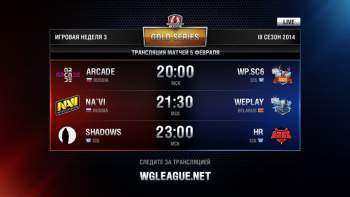 Click to watch recordings of matches
Results of February 4
February 4th championship leaders opposed Silver Series champions last season Evil Geniuses . NSS Team continued the tradition of the collapse of rivals – fast game with a score of 5: 1. WP.TYL and Shadows conducted a colorful and bright game, full of struggle and interesting moments. This time the "Lions" were stronger. Santa Claus and Six Deers pretty confident dealt with 4GP .
offer to see the best moments of the first day's play.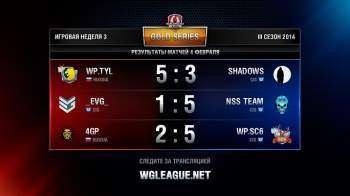 You can also watch the matches, install applications WG Stream .
Team Manager Na`Vi Dmitry Repin aka de1uxe :
As you know, we missed the first two weeks of the League, as they were in China, where won with a total score of 24-3 and defended the honor RU -Locality. Tournament, despite the cold, we liked, because it takes us very warmly.

The new season in a new format looks very interesting, there are unexpected results. Some teams have surprised me, for example, R oX. KIS and NSS Team .

This week we are playing their first two games and have successfully started in pursuit of the leaders: NSS Team , HR and Arcade .
Team Captain 4GP Alexander Lyskov aka Azton :
Because of the format change in our team, new players. I had to go to the managers, since a long time I played the first level of the tank. I decided to find a replacement for the role of field commander, now a player Positivve. In the next matches will try to correct standings and show a good game.
Team Vega Squadron:
Hello everyone. There was the third week of Gold Series. This time we have a difficult match against Na`Vi , one of the most serious contenders League. We worked hard and trained to show a good and well-organized game. We hope you enjoy, watch the game and cheer for us!
all the basic information about the League can be found in Guide Wargaming.net League .

Remember how passed second week Gold Series .

Follow the news:

– the official website of the League.
Watch the video:
Source link.