«May 1945″ – a series of stories from the Wargaming, dated May 9. Member of the siege of Breslau, holder of the Silver Cross of the Order of Military Virtue Bronislaw Jakimovich tells what tactics chose his group and chairman of the Association of fortifications Wroclaw Stanislav Koloushek describes the course of the siege and fighting, during which the city building was almost completely destroyed. Commander of the Order of the Patriotic War I degree, a former medical instructor Maria M. Rokhlin, who took part in the first wave of attack, complements the story the story of another war – the battle for human lives in hospitals.
Background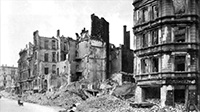 May 6, 1945 the German city of Breslau fortress capitulated after a siege of the troops of the 1st Ukrainian Front. In the city were Machine Works FAMO and many defense enterprises. The garrison town has 80 000 employees, including 269 th and 609 th infantry divisions, land Battalion SS "Besseleyn" protective battalion ROA, 40 battalions of the Volkssturm, the disparate parts of the military academies, aviapolevyh parts of the Luftwaffe, Hitler Youth and the police. The siege of the city was carried out continuously since February 13, 1945, surrender took place at 18 pm May 6, 1945: Commander of the defense General Nikgof Breslau surrendered the city to the 6th Army Gen. Gluzdovskogo. Later, the city was renamed and got a Polish name – Wroclaw.
[1,999,006] Topics of previous releases:
See also:
Source link.