Tankers!
If you've been thinking about changing the name of the game but you are interested in a variety of aliases and their variants have been busy – now the best time to come back to this idea. The reason for that – a lot of really cool game names cleared through our work to identify abandoned accounts.
What accounts have lost their unique nicknames?
accounts registered before 04/01/2014, whose users since the registration was never included in any of the gaming companies as well as on the official forums.
Also, before you rename all of these players have been sent a notification to a private e-mail with the request to authorize any of the services Wargaming, to save a unique nickname. Accounts that have not authenticated, were renamed – they are assigned standard names like RenamedUser_H.
How to see what kind of nickname is free?
1. It's enough to go to the tab "Community" in the section "Players" .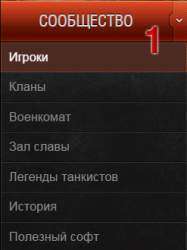 2. And further into the field to enter your desired nickname. If the system does not search for outstanding results – nick free.
Details about how to change the name of the game you can learn from
this material
.
See you on the battlefield!
Source link.