new release of monthly wallpaper and calendar dedicated to the main prize Christmas Marathon – Chinese heavy tanks VIII level WZ- 111 .
Interactive Calendar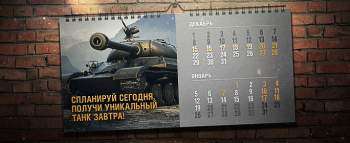 Thanks to the guys at one time to develop application "Knowledge Base" players became available online tool for tracking progress in passing Christmas Marathon WZ -111. This calendar can be found at http://calendar.wotbase.net/ .
Detailed guidance on work with calendar can be found in a special forum thread . You can also ask its creators or write a review.
Source link.