blindly plasticine his first cartoon contest "Frame by Frame" three years ago, Andrew Ansy Ugriumov "stuck" to the cartoonish tanks. Now the author has several "series."
The first and so far the most successful cartoons Ansy – that "Tank tricks" (TankTricks). Series "Tanks advise" and "LBZshki" published on the channel WoT Fan made three videokvesta and three series with the aircraft "Curiosity in the clouds" . To maintain your YouTube -channel author releases "Cartoons on demand" .
Andrew said that he had discovered a talent multiplier only through competitions Wargaming . And not so long ago contest drawings on glass second place went to his father in law, who also plays World of Tanks and also great draws.
Commissioner editor WarGag . ru Valera Prigogine talks about his first impressions of the work Ansy:
"Sometimes you do not like the others but leaves bad, but the most common idea expressed an unusual way, it may be cool. The first series of cartoon "Tank tricks» Ansy because of its unusual angle reminded me of the days of GTA 2: while watching I've been waiting, that is about to be violated ethical rules. But cartoons were good, and even informative. They can serve as a good example for young authors, as to go beyond the hackneyed jokes. "
about his success and experiments Ansy tells himself.
Andrew Ugriumov, 36 years old, lives and works in Kiev. Ansy first masterpiece created quite small, using a rare technique
"Lipstick on the wallpaper."
Design
to perfect their skills in their notebooks in class. Achievements drawn special school years a series of comic books and homemade paper Transformers.
At the University I "saw through" on the first course, and had to draw fakultetnye plakatiki. Later, he began teaching at the courses of computer graphics. Then moonlighting design packaging for food products. After uni took a job at a publishing house. As a result, has become a leading designer and responsible for the delivery to the printer. This live to this day.
Game
I remember a wonderful moment … when in August 2010, clicked on Internet banner World of Tanks. Waking up after 10 thousand fights, I noticed that on the portal there is a lot of interesting things, and began to participate in various creative competitions. Soon announced a contest "Frame by Frame", where stop-motion techniques needed to create a cartoon about the T-34. My wife and I thought, consulted with five years old son and decided to participate. It was interesting, it was hard, but we did, our family creation has earned a special prize – 10,000 units of the game gold.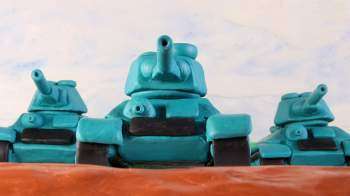 As we shot plasticine cartoon:
After the bankruptcy cartoon year has passed. All this time I not only picked out from the carpet clay, but thought in whatever animation technique to start doing serial cartoons. They were supposed to be simple to implement and not too time consuming. Stopped at one of the types of flat puppet animation. The point of the animation is simple: first, in the graphical editor are parts of a character, then they are going to program animation, where are able to move. All this takes about a week.
Animation
First multeksperimentom were "Tank tricks." The highlight of this series was the "top view". As it turned out, this species is not only convenient and easy to animation, but also allows you to demonstrate tactical gaming moments. Heroes like the way a diamond is taught to put the tank, look at the opponents weak spots or hiding behind obstacles. At the moment, made several different series of cartoons.
Cartoon characters:
music for cartoons, first tried to write it myself, but then I explained the difference between woodpecker and nightingale, and I began to pick up the soundtrack of free libraries.
The most common subject for a cartoon comes by itself or during the game. First, I will briefly describe it, then refine and, if necessary, draw the basic frames. The final story develops already in the course of the animation.
In conclusion I would like to advise everyone to take part in numerous competitions from Wargaming. This will not only replenish the gold account, but also help to manifest talents!
Read the full collection of works Ansy possible to WarGag.ru.
Source link.