"randomly sketches "as the author's blog plagas with amateur caricatures appeared in the two years before the release of" random "tanks. With the advent of World of Tanks heroes robbers drove Hellcat and Chaffee. The designer from Kaliningrad Dmitry Plugin already created 111 short cartoons that would make come true, tanks, meeting the good genie who criticize, if not cheerful Rubilovo tank, and what to do if the tank is not enough personality and bright image original hairstyles.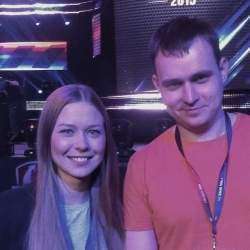 Plugin Dmitri, 30 years old
"I have installed World of Tanks –
, and I immediately wanted to paint the tank"
What motivated to make the first cartoon? How did the concept of "randomly sketching?"
I love to draw. Plainly it is not studied anywhere, so painted as best he could, and that like. It was uncomplicated cartoons, pictures, memes. I wanted it as something to share, then I started the Learn and began to spread their creativity. Journal gave the name of "Random Sketches" – the first thing that came to mind. Then replace the first word in the English counterpart – "randomly".
After a couple of years I found World of Tanks – and I immediately wanted to paint the tank and somehow beat it. Cartoons I always loved from the good old "Tom and Jerry" and "Disney" to modern South Park and "The Simpsons", but do they really have never tried. I had a simple idea about Flash, and the experience of drawing comics. In short, went and did.
cartoon turned out pretty clumsy, but fun, so I decided to send him to the magazine of forum "S.T.V.O.L" . Community First "Tankomult" liked, demanded "ischo." And I began to do much more.
The big problem was the music. I dumb cartoons: tanchiki not speak, but only show emotions. Needed situational music to it, she voiced the characters, just as in "Tom and Jerry." Then I turned to the musician Vladimir Malyshkin, and, as a creative person interested in such a project. Since then, every week he writes the music for "Tankomultam." The atmosphere and mood of the movie is set in music.
Second "Tankomult" we have done together, and the name was taken from a blog in LJ – so there were "randomly sketches."
Like many cartoons appeared in this time?
If I do not get them mixed up, that at the moment 111, and one more in the process.
you release a new cartoon every Friday afternoon. How to manage to follow a strict regularity?
disciplined me, can not be called, but I have set myself such a condition. Then there was a responsibility to the audience, who are waiting for release of the new "Tankomulta" every week. I do not like to fail subscribers. For example, once in the middle of the week I broke a graphics tablet, and until Friday was two days. I dropped everything and ran to the store for a new one. Managed. Another time, cut off the Internet, download a new series through a mobile phone. And yet sometimes the circumstances were stronger – we apologized to the audience and lays out.
All news of the project, we try to publish in our group, "VKontakte" .
The latest series of "randomly sketches" published in the experimental format – almost twice as long as traditional polutoraminutnyh cartoons.
How did the idea to run in parallel and more lessons about how to make cartoons and writing music? Hang out with the guys who are trying to create cartoons after training issues? Showing something to assess, advise?
As I said, I was doing cartoons "an educated bet," and continue to learn so far. My cartoons are simple and uncomplicated, and the guys are trying to draw something like that. Send us your pictures or movies excerpts, ask for advice. As far as possible I try to reply to these letters. One almost went to pieces with letters, notices and spam. I had to pick out from the flow of information capable children to communicate with them.
After the hundredth issue of "How are you doing cartoons?" I made a section "how to do it" ("QED" ), which tells about your process. The same is done and Vova about music. But we must understand: to write music, you should at least know the notes.
Who is doing great, "QED", given that there were significant changes in the program and innovation, and I learn a little bit at this point.
What else do with my life, whom you work?
I always liked to draw and invent. A couple of times to help friends in the store design: corporate identity, logos. And began work as a designer. Then he got a job in an advertising agency, and then in a photo studio, then began to work for themselves. Small firms to hire expensive staff designer, but outsourcing – the most it. So I've been working with several companies.
I gamer, so a lot of playing games. I love to go on nature: fond of fishing, and hunting, and plans more. Few sports, not to stay too long in front of computer. But the most important thing: I have close friends, favorite business and dear viewer!
Source link.