Soldiers!
Development Team announces the opening new clan portal , where in one place will be gathered all the information and convenient tools for clan players.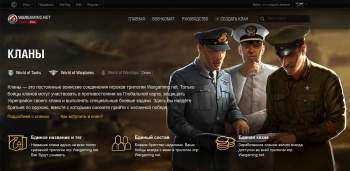 common portal, made a new eye-catching design, which combines all the clan features: create a new clan, functional "recruitment office" (search clan or recruit fighters), information on the fortified area, clan leadership and more. Henceforth, there will be created specifically for you, easy to navigate platform with everything needed for a clan life!
Resource will be regularly updated with useful functions.
As part of a trilogy of military Wargaming will be available not only to the overall premium account and game gold, but also common in clans World of Tanks and World of Warplanes, and will join in the future and "sailors". This means that your clan will be uniform and name tag in all three games, a single clan members as well as the single treasury, allowing to manage to earn gold in any game.
In this regard, the new features will appear in the "recruitment office ": in the personal appeal and Conditions. There will be the opportunity to choose what game you plan to play as part of a clan. It can be noted both projects. Depending on your choice to change the set of fields to fill in and outputs the result.
So far, we present only the very first version of the portal clan. However, in the near future will be put into operation new features:
Detailed statistics fortified area
Detailed statistics for each player on the page of the clan, including information his technique;
redesigned profile clan Clan Stats, Journal of clan events, classified ads,
and other useful tools.
Work continues! Our goal – to create the most convenient platform that provides fast access to all relevant information and help your military brotherhood rally on the way to victory.
Source link.