Calendar of Events.
Good luck on the battlefield!
Historical Background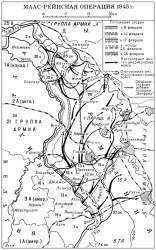 Meuse-Rhine offensive conducted by Allied troops from February 8 to March 10, 1945, and was part of the overall Allied offensive in order to reach the Rhine.
As conceived by the command of the British forces was planned 2nd Army troops to hold down the center of the front, and covering the blows of the American 9th and 1st Canadian Army to defeat the enemy, coming on the west bank of the Rhine in Düsseldorf and Emmerich. Allied offensive was preceded weekly bombing of German positions.
February 8 allies went on the offensive and by 13 February failed to break into the enemy's defenses. Beat the 9th Army had to be postponed because the Germans blew up the dam and opened the floodgates on the River Ruhr, flooding the area. Start moving in this area was only on February 23, when the water subsided. By the end of February, after heavy fighting, the Allies succeeded in forcing Hitler's troops to retreat under threat environment.
By March 9 on the west bank of the Rhine was only a small group of German troops defending the bridgehead near Wesel. On the night of March 10, the majority of this group moved across the Rhine, for blowing up a ferry. Thus, surround the enemy allied forces failed. However, from an operational point of view, Operation Veritable improved position allies and created favorable conditions for further advances in the Ruhr industrial area.
& gt;
Source link.