Hello, fans of the tank tournaments!
Online part Wargaming . net League came to its climax. As you know, recently ended the group stage Wargaming.net League Gold Series, a victory which marked HellRaisers . That they Na`Vi runner-up, have already secured their participation in the LAN-finals, which will be held in Minsk from 21 to 22 March.
13 and 14 March six teams play two remaining vouchers for LAN-finals in the round of the playoffs.
Broadcast started – at 19:00 Moscow time on the news, in our Twitch-channel and Online Leagues .
Schedule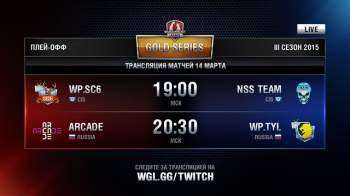 The first game day – March 13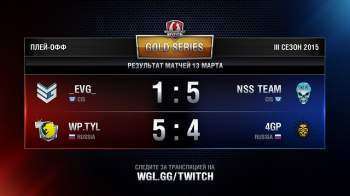 best moments
For a chance to meet Na`Vi and HR struggling team, ranked third 8 th in the group stage:
Arcade ,
The Young Lions ,
Evil Geniuses

.
Opinions
Eugene Ryazanov aka SANTACLAUS captain WP.SC6 :
Now, after the occupation of the third line of the table, we only need to win one match to enter the LAN-finals. This battle is clearly not going to be easy, but we will survive.
Alexander Lyskov aka Azton captain 4GP :
Start of the season for us went unsuccessful, could not adapt quickly to the new format, but we managed to put the bit at the end. We stay in Gold Series and try not to miss your chance and enter LAN -final.

Sergey Kutuzov aka Stam71 captain WP.TYL :

Our goal remains the same – to get into the final of the tournament, that's it. Therefore, we will make every effort to achieve the goal. And get it from us or not, will show only a game.

We have to play in the playoffs against EVG , this match will be very important to us and responsible. We have no room for error. Good luck battles all participants round!

Evgeny Makarov aka Oberst_ Fuchs command A rcade :

talk about responsibility in the playoffs too. It is the culmination of the season online. Naturally, we want to get on LAN -final, and will make every effort for this. Curiously, most likely we will have to meet with the team of our former player and a very good friend – NonickNoskill . Of course, the motivation in these games, it will not hold, so that the passions and emotions is practically guaranteed. Although 4GP should not be written off. The dark horse is doubly dangerous.
At the final stage of the competition will meet the best team RU-region, his game to prove his right to fight for the title. The importance of the results season is greater than ever, because they will determine who will go on Grand Final in Warsaw.
all the basic information about the League can be found in Guide Wargaming.net League .
Next the news:
Watch the video:
Source link.