Tankers!
Especially for the real men in the bowels of BURGER KING® has been developed brutal black tankoburger which will deal a devastating blow to the famine, and give you new strength for victory in the game and in life . Fortified by this hearty doppaykom possible in the new dining complex "Tank Combo" consisting of a black " Average Tankoburgera" " King Free" ® (standard portion) and carbonated beverage (0.5 L).
[1,999,012] C [1,999,025] June 15 through December 31, 2015 when buying lunch "Tank Combo" in addition to a powerful boost of energy you get more and the two special gifts:
an invite code to the premium tank

Churchill III , 3 days of premium account, and 1000 .

bonus code 1 day premium account, or

250

, or a set of premium equipment
[1,999,035] ( Automatic fire extinguisher + [1,999,074] Big Kit +

[1,999,076] Most kit

).
All three bonus codes are distributed randomly. You can also see the contents of a bonus code that is received only after activation.
Details of the action
1 . The special offer will be valid in all restaurants network BURGER KING® (Russia) [1,999,015] than located at:
[1,999,101] g. Ul. Big Tula, 13, the SEC "Yerevan Plaza";
Moscow, Komsomol prospect, 28, Moscow Palace of Youth,
Moscow Stadium "The opening of the Arena";
St. Petersburg c. Dybenko, 27, Art. m. "Ulitsa Dybenko";
Ussuriysk Str. Nekrasov, 82B;
Vladivostok, ul. Svetlanskaya 56.
[1,999,012] [1,999,015] 2 . For one game account can activate no more than 15 bonus code of each species.
[1,999,116 ]
Recall that all activity in the current World of Tanks you can learn from .
Fill with World of Tanks and BURGER KING®!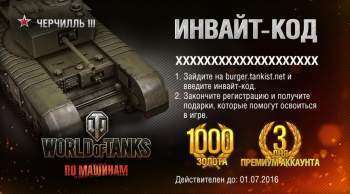 & gt;
Source link.