The idea of ​​the tournament on World of Tanks among cadets and cadets there for a long time. However, she wanted to bring zest to make the event is not just "a game of tanchiki." And, when the museum computer classes, this method has found. It is a museum where you can touch the history, it was decided to gather students of military educational institutions of Moscow.
Why cadets and cadets? Because they are especially close military theme, they do not know firsthand what tactics, interaction and competent disposal the resources that are available. World of Tanks allows these skills and abilities to open up more fully within the virtual battlefield.
The tournament was held in the museum, and for the participants organized a small tour of his holy of holies – the Hall of Victory. See with their own eyes the Victory Banner, personal belongings of the generals and marshals winning battle trophies, feel the spirit of 1945, when the most terrible war in history – it is very important for future officers.
And that happened in computer class, much better picture story to tell.
Read more
As a result of the competition were distributed as follows:
I place – Moscow Higher Military Command School.
II place – Moscow Suvorov Military School.
III place – Moscow Cossack Cadet Corps named after MA Sholokhov.
IV place – Military University of the Ministry of Defence the Russian Federation.
We thank participants, organizers and partners of the tournament and hope to meet again in the near future, when such tournaments will be held not only Muscovites, but also for cadets and students from other cities and states.
The event was a global initiative "We remember everything ". Tremendous help and support was Department of Culture Ministry of Defence of the Russian Federation, the Russian Federation and Club commanders administration of the Central Museum of the Armed Forces, as well as company Plantronic Gaming – leading manufacturer of gaming headsets.
organizers and partners of the tournament: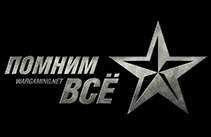 "remember everything" – a global initiative, organized by Wargaming in late 2013 and aimed at promoting military-historical museums in the world in the preservation and restoration of the legendary military hardware. The program aims to revive interest in the history, to inspire young people to the study of the past of their countries and to preserve for future generations the unique historical monuments.
Source link.