& gt;
Firefly – M4A1 and M4A4 is Retrofitted his British 17-fntovymi tools
Ordnance QF 17 pounder Mk.IV . One of the strongest modifications Sherman during the Second World War. To install a powerful long-barreled guns took only change the design of the mask tools, while leaving unchanged the tower (which for some reason did not get the American), although this had to sacrifice stabilizer guns and assistant mehvoda. Total order was modified 2100-2300 tanks of all modifications.
Reservation:
Case – 50/38/38
Tower – 76/50/50 runoff
– 76/50/50 Top
Strength of 720-750
The speed of rotation of the chassis – 37..40 degrees / sec.
The speed of rotation of the tower – 40..42 degrees / sec.
Angles vertical guidance 20 ..- 6 °
Maximum speed 36 ..- 18 km / h
Engine power – 400..460l.s.
Weight – 33.28 m.
Power density – 13.8 hp / t.
Range Review – 330..360 m
Communication range – 400..550m
Crew: 4 people
Driving booking Sherman Firefly
Armament:
Eq.

Cannon

Penetration
(mm)

damage
(NO )

rate of fire.
(rds / min)

spread (m / 100m)

Time information

Damage per minute

IV

75mm Gun M3

92/109/38

110/110/175

15.79

0.43

2.1

1736.9

V

105mm Gun M4

53/101

410/350

7.5

0.52

2.5

3075

VI

76mm Gun M1A1

128/149/38

115/115/185

14.29

0.41

2.3

1643.4

VI

QF 17-pdr Gun Mk.IV SH-SH

143/171/38

150/150/190

12.5

0.38

2

1875

VII

QF 17-pdr Gun Mk.VII

171/239/38

150 / 150/190

12.77

0.38

2

1915.5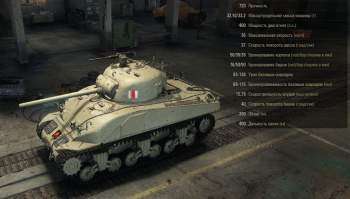 Sherman Firefly – stock with 75mm Gun M3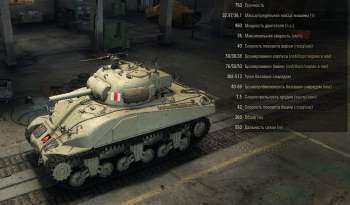 Sherman Firefly – top with 105mm Gun M4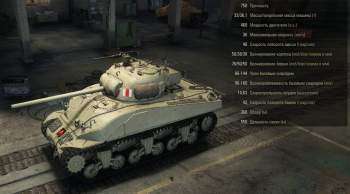 Sherman Firefly – top with 76mm Gun M1A1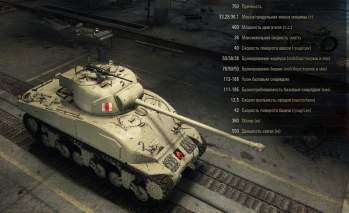 Sherman Firefly – top with QF 17-pdr Gun Mk.IV SH-SH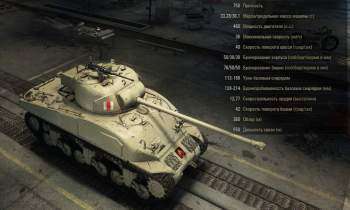 Sherman Firefly – top with QF 17-pdr Gun Mk.VII
Firefly – the car that many have been waiting for. Moaning on about it began to be heard almost immediately after the Americans … and that's the end of something, as they say, wait. The tank was very well balanced. Wonderful instrument with the highest penetration among Article 6, excellent accuracy, good alpha and good damage per minute is compensated not the best mobility (slightly better than the Jumbo) and quite small angle of declination guns. And the most annoying is the small negative angle, because of the rather high base Sherman often have to fidget here and there even seems to be quite flat areas cards. On the whole game on the tank closer in style to Fri than to art.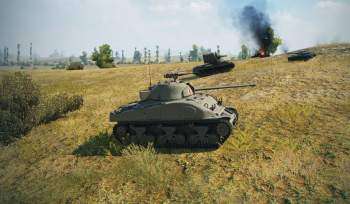 Source link.