M3 Stuart – most massively shipped to the UK American light tank of the Second World War. Starting with 1941, 6889 was delivered tanks of various modifications (from M3 to M5A3). The machine is actively used by the British at all HPT from Africa to Indonesia. Replacing an outdated by the time the A9, A10 and A13, Stewart favorably compared to last more reliable, and not inferior in mobility and firepower. The main criticism usually causes a slight reserve. However, in general, particularly to choose from which it was not, because The United States was producing British tanks at US plants, and its capacity is extremely lacking. Therefore, the British strongly upgraded M3 in order to "fit" the car under the specific conditions of warfare.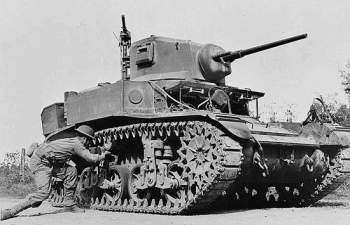 Reservation:
Case – 25/25/25
Tower – 38/25/25 runoff
– 38/31/31 Top
Strength of 230-250
The speed of rotation chassis – 40..45 degrees / sec.
The speed of rotation of the tower – 40..48 degrees / sec.
Angles vertical guidance 20 ..- 10 °
Maximum speed 58 ..- 20 km / h
Engine power – 245..262l.s.
Weight – 12.93 m.
Power density – 20.26 hp / ton.
Range Review – 280..320 m
Communication range – 250..450m
Crew: 4 people
Driving booking Stuart I-IV
Armament:
Eq.

Cannon

Penetration
(mm)

damage
(NO )

rate of fire.
(rds / min)

spread (m / 100m)

Time information

Damage per minute

II

37mm Gun M5

48/70/19

40/40/50

24

0.46

1.8

960

III

37mm Gun M6

58/78/19

40/40/50

24

0.41

1.7

960

III

QF 2-pdr Mk. IX

64/121/23

45/45/60

23.08

0.4

2

1038.6
Stuart I-IV – stock with 37mm Gun M5
Stuart I-IV – top with 37mm Gun M6
Stuart I-IV – top with QF 2-pdr Mk. IX
Stuart, things are not as bad as its predecessor. Englishman slightly less mobile (below maximum speed and power density) than its American counterpart, but has the ability to install a cool 2-pounder guns (above and piercing, and damage per minute). What makes it, in my opinion, more attractive in terms of gameplay. Overall, the car turned out good, "flat", without any negative aspects, however, and particularly outstanding positive is also not seen.
& gt;
Source link.