Tankers!
One week – from April 20 9:00 (GMT) to April 27 9:00 (GMT) – you will have a unique opportunity to purchase a Premium store sets with
AMX 13 57 – exclusive tank, issued specially in honor of Grand Final Wargaming.net League 2015 and camouflage decorated with company logo tournament.
Note: kits will be available for a limited time. Have time to become the owner of the mascot Wargaming.net League 2015!
New offers Premium store – it's a great opportunity to make a gift to your comrades!
Talisman WGL 2015: a small set
AMX 13 57 – one of the modifications light tank AMX. A key feature of this version is a long 57-mm gun with drum charging for 8 rounds. The time interval between shots – only 1 second, which allows you to instantly give 720 points of damage to the enemy and go to recharge. In addition, AMX 13 57 endowed with good driving characteristics and review of 390 meters, and because great cope with the role of "Firefly." Illuminate your team the way to victory!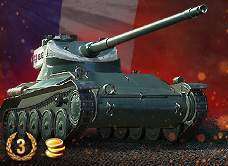 Kit:
AMX 13 57 and a slot for him ,
1000 ,
Bonus –
3 days free premium account .

The cost of – $ 25.2
Talisman WGL 2015: range

Love and know how to play actively? Ready for aggressive raids behind enemy lines? In this case, AMX 13 57 suit you perfectly. Quick and bold, with a rate of 8 drum shells, he is a born raider. Do not forget to bring automatic fire extinguisher, and the Great Big Kit first aid kit to be ready for any eventuality in the fight. Or, perhaps, it is necessary to capture the strong coffee to help the crew to work in full gear? Complement your brand new car to your own taste, and go into the thick of battle!

Kit:

AMX 13 57 and a slot for him ,
4000 ,
10 Automatic fire extinguishers ,
10 Large repair kits ,
10 Large kits ,

10 Strong coffee ,
Bonus – 7 days of free premium account . The cost of – $ 45.2
Consider the 3D-model AMX 13 57 in detail you can here .
See also the video overview of the tank from Amway921:
Source link.