In July 1941 tank battle in the neighborhood gathered Syanno about fifteen hundred tanks. In 2011, in commemoration of the battle in the central square of the city established the IS-3. Among other memories of a great battle – concise exposition of the museum, which brought together local ethnographer and artist Vasily Bondarevich.
The tour starts in a small corridor, plastered with posters: Soviet soldiers, ordinary German Army artillery in the form of those times when they fought in Senno. Soviet tankers were at that time well equipped.
Posters Exposure author drew on their own, no wonder he graduated from Vitebsk hudozhku the same as Marc Chagall. Photos commanders tank divisions, General Vinogradov, General Alexeenko, Soviet and German tanks on the battlefield for the most part taken from the Internet.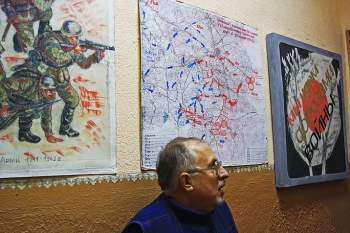 On the left hand our guide – a large map of Belarus with the routes of tank groups Guderian and Hoth. It is through Senno district lapels two major rivers – Dnepr and Western Dvina – were corridor to promote tanks from Minsk to Smolensk. On the opposite wall – detailed map of tank battles at Syanno prepared under the historical sources and eyewitnesses.

After the war, the city came to national artist Valentin Volkov, author of the coat of arms of the Byelorussian SSR and the famous painting "Minsk July 3, 1944". The painting, which he wrote in Senno, goes tank battle near the village of Trubonosy now Sinegorye: Soviet KV-1 rams German tank Pz.Kpfw. II. The museum hangs a copy of which is made with colored pencils Basil Bondarevich. The original is in the Museum of the Great Patriotic War in Minsk.

– These tanks were the Germans: a 20-mm gun, – says local historian. – Soviet KV stopped only in the depth of the German defense – 36 hits, but only with his howitzer shot down when the tank got stuck in the swamp.

But the most interesting thing in the film – the tanks, which are depicted in the background:

– I very carefully redrawn and in all forms – a T-50. They do not occur in any document, rare, should keep pace with the T-34, but they managed to produce only a few dozen. Were more chemotherapy, chemical tanks. This Flame tank, most likely intended to burn pillboxes.

The biggest artistic value of the exposure – the original oil paintings of the artist from Minsk Alexander Nazarchuk "Tank battle of Senno." Written painting in 1986 commissioned by the Directorate farm named after Karl Marx (the village of Studenka). The painting goes on the attack Soviet tanks in the background visible church and the old building of the local district council, which now houses a museum of local lore. According to eyewitnesses, the Soviet tanks attacked mainly at night, to avoid being attacked by German aircraft.
| | |
| --- | --- |
| | |