Contest Rules, "This is a frame!"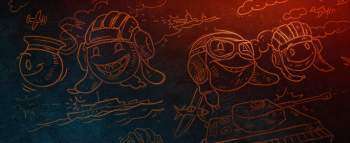 Conditions of the competition
Competition "Here is a picture!" conducted on entertainment resources WarGag.ru . To participate create images in a witty manner play up movies, commercials, videos, and related characters and the various phenomena of the universe Wargaming.net.
the winners selected by the jury. Works are taking part in the competition since their publication on WarGag.ru. Images of prize winners will be published in the news in the portal.
Conditions
Take part in the competition may any player.
Works must be created specifically for this competition.
Availability of humor is mandatory.
Job can be created in a graphics editor, and on paper in any artistic technique.
The image must contain the name of the game author.
Recommended resolution images – no less and no more than 800×600 pixels 2000h2000 size – no more than 2 MB, format – JPEG, PNG or GIF.
image should not violate moral, ethical and legal standards as well as the Terms of Use and Rules of the Game WarGag.ru.
Use of profanity is prohibited and punishable.
Following the publication of the work on WarGag.ru exclusive rights to her company Wargaming transferred in accordance with Section " 6. Exclusive rights "User Agreement.
The procedure of sending images to the contest
Visit http://wargag.ru / .
Press Add + on the right side of the screen.
Select the "picture".
Add an image or select a link to a picture.
Select category «Movies».
Press Send .

Dates

Start receiving entries – with Since the publication of news .
End Reception entries – November 16 at 23:59 (GMT) .

Prizes

I place –

5000

+ unique reward in WarGag.ru.
II place –

4000

+ unique reward in WarGag.ru.
III place –

3000

+ unique reward in WarGag. ru.

At the discretion of the jury will be awarded special prizes.

& gt; ,
Source link.