Dear players!
on October 25 in Poznan is a tournament between the best teams in Western Europe and America – Rumble in the West .
the first match – at 15:10 Moscow time on WGLeague . net
During the month of the best bands of the European and North American regions fought for the title of the strongest western part of the league squads to take part in the tournament Rumble in the West .
qualifying identified by two teams from each zone that October 25 will compete for a prize fund 50 thousand US dollars in the Polish city of Poznan. Particularly pleased that Europe on LAN -finale represent Virtus . pro and SchoolBus .
,
,
, ,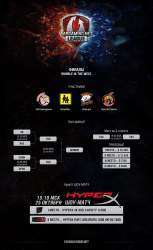 , , , ,
,
,
Also in the tournament will be held All-Star Game. Two teams of two regions, each of which consists of the top seven players in the opinion of viewers will find out who is stronger – Europe or America. The show will take place on new rules of battle command with attack and defense on two bases.
See the final fights live!
Source link.