Tankers!
November 5 update came out on entertainment resources WarGag . ru . The main innovation was the reputation of the author on the sum of its publications. Now all the positive contribution will be marked by various titles, we have added them to the user profile. The profile itself became contain more information about the author, information on the number of his posts and comments. In addition, there appear unique rewards for participating in the competition held on WarGag . ru .
Ranks
In this update we have added seven titles, authors note the contribution to the development of the resource. All positive otsenёnnye publication affect the reputation of the authors, allowing them to get new titles. Their achievements can be shared with friends.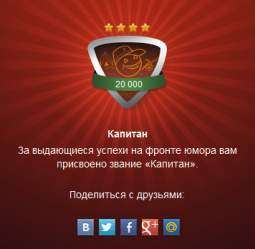 Awards
Winners of the weekly contest «WoT joke!" will receive one of two unique awards in its category. In addition, a video will be given a reward "Here is a picture!" . On the conditions of its production will be introduced later.
Sending complaints
In the update we added a system of sending complaints to the materials of the authors. Each complaint will be reviewed by moderators in accordance with rules of use . To submit a complaint, click on the icon in red below the message, and select from the drop down list the desired item.
In subsequent updates will be added opportunity to complain to the user comments.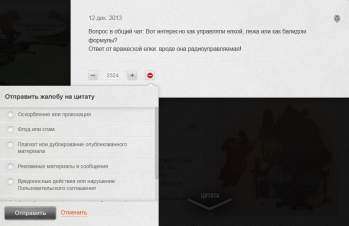 Now available the following types of complaints:
Insulting or provocation.
Flood or spam.
Plagiarism or duplication of published material.
Promotional materials and messages.
Malicious acts or violation of the User Agreement.
derogatory remarks about the game and its elements.
A reference to a remote material.
about all the current active World of Tanks you can learn from .
Source link.