Lev Gorlitsky met the war as chief designer for the production of artillery at the Leningrad Kirov Plant. From June to October 1941 his department was installing guns in pillboxes, defending the approaches to Leningrad. In October, production was evacuated to Sverdlovsk, and became part of Uralmash.
A year later, in October 1942, Uralmashplant was established Special Design Bureau headed by Gorlickie entrusted with the task of creating a self-propelled guns . An urgent need for these machines arose with the advent of the Germans new heavy tank "Tiger".
Deadly "classic"
Three self-propelled guns, developed by Leo Izrailevich during 1942-1944, made an enormous contribution to the future victory over Germany.
Firstborn Gorlickie, SU-122, was more assault guns. In the fixed conning tower was placed 122 mm howitzer. Used to fire high-explosive, and later cumulative projectiles. Despite the large number of deficiencies in the army self-propelled gun was well received. The car was effective against gun emplacements and manpower, but a small howitzer projectile initial velocity would not allow her to truly confront the tanks.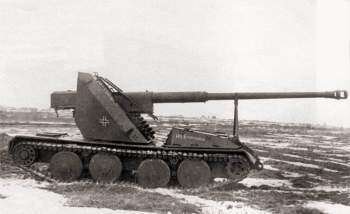 SU-85 (1943) was dedicated, designed to deal with heavily armored German vehicles "Tiger" and "Panther". Her 85-mm gun punched their armor with short and medium distances. At a distance of over 800 meters gun was already ineffective.

Therefore, in 1944 KB Gorlickie developed self-propelled 100-mm gun – SU-100. It proved to be the most dangerous opponent for the entire German armored vehicles. Some problems arose only with the destruction at long range "royal tigers", "Jagdtiger" and "Ferdinand."

The construction of all three of the above was a classic machines for Soviet self-propelled guns of the Great Patriotic War. The chassis of the series tank, conning tower in front of more or less a good head-to book. The scheme was convenient to its relative simplicity and adaptability, but has two major drawbacks. The first – a preponderance of the bow of the machines, because of which were overwhelmed by the front rollers, which has a negative effect on the reliability of the suspension. The second – a long anti-tank gun, because that reduces the permeability of the ACS was a danger that the gun votknёtsya into the ground in an unsuccessful maneuver.

The problem could not be solved within the framework of the "traditional" design, a new approach is needed. In particular, considering options with rear placement of the conning tower. A Gorlitskiy decided to go even more unusual way.
A new look at self-propelled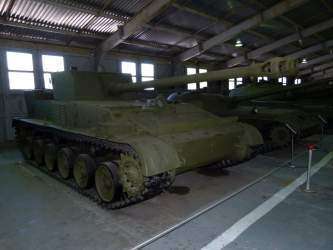 Gorlitskiy himself recalled, he wanted to see his new car ACS "with further prospects that meets all modern requirements" . According to the new concept of self-propelled machine that belonged to the so-called escort vehicles. Such self-propelled guns were to be versatile and with equal efficiency to hit enemy armored vehicles, manpower and field fortifications.

First KB Gorlickie conducted serious work on the study of domestic and foreign experience. Great interest was aroused by German car project Waffentrager. In fact, they were tracked carriage, which set the gun, protected by an armored shield. That this scheme lion Izrailevich chose for his new machine, which received the designation Su-100P or "Product-105."

Design SU-100P different from the usual Soviet scheme with full booking. Gorlitskiy prefer to bet on mobility and firepower. It has developed a new chassis armor whose thickness does not exceed 15 mm. On this chassis designers have placed the gun carriage-cabinet with 100 mm gun D-10S. The gun was protected by a small open cut and compared with the "classic" Soviet self-propelled guns had very large angles traverse – 155 degrees. The machine could fire not only direct fire, but also from the closed position.

Chassis SU-100P was created from scratch. A rare case of a Soviet tank building: power pack at the front of the machine was located. The new transmission provides assurance management of ACS at any speed and any road curvature. The nation's first tracks were used with rubber mount, which has a positive effect on the service life of the undercarriage.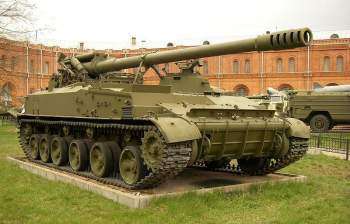 In 1955, After testing and development, the SU-100P was put into service, but are produced in limited "edition" – no more than 24 self-propelled guns of all time production. The main reason -raketny boom unfolded during the reign of Khrushchev.

But chassis SU-100P luckier. It proved to be one of the most popular for the Soviet military equipment.

First, on the chassis SU-100P at the design stage based self-propelled two other prototypes: a 152-mm howitzer SU-152G and SU-152 "Taran" . Later chassis lengthened to seven rollers, and as such it became a base for a variety of machines. Among them – tracked armored personnel carrier BTR-112 anti-aircraft missile system "Circle", the other launchers. The chassis was used in the ACS "Acacia" Mortar carrier "Tulip" and 152-mm self-propelled gun "Hyacinth-C."

Also read:
Workers' Small conflicts ".
Lyricist – Vladimir Pinaev
Sources:
Luparenko. G. Little-known designer development LI Gorlickie.
Gorlitskiy LI Memories chief designer. St. Petersburg, 1993.
Belousov need a new ACS! History SU-100P. World weapons, № 8, 2006.
Source link.