Dear players!
It is time to take stock of the weekly contest " WoT funny! " for the period 16 to 22 April. The winners of pictures in the near future will receive 3000 , authors of the best quotes – for 1000 .
Read the contest rules can be here .
Results of the weekly contest pictures " WoT funny! "
1. _xRoWx_ :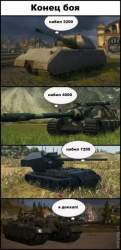 2. akvapelbko :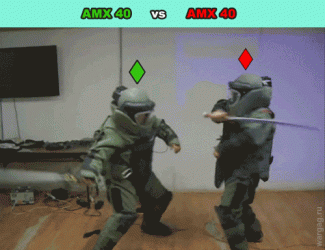 3. CET0VSV :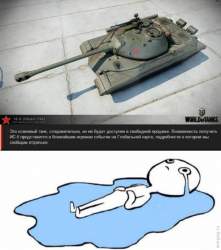 4. 00_zonder_00 [1,999,021] [1,999,007] [1,999,003] [1,999,037] [1,999,083] [1,999,084] [1,999,040] [1,999,086] [1,999,042] [1,999,021] [1,999,007] [1,999,005] [1,999,046] [1,999,006] 5. ArkStroi :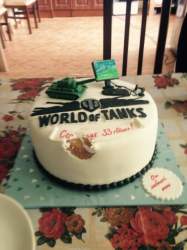 Special prizes for 1000 : Clerg , FaceHoof , VuWay .
Results of the weekly contest citations " WoT funny! "
1. StRi4i :
If you look at World War II from the perspective of WoT, then dragged the Soviet Union and other "podsosali" frags.
2. tankismus :
I sit, play, standing behind a daughter:
– Dad, why go to the left, and you're right?
– Because there podobyut them all, but I do not …
A minute battle:
– Dad, why your tank lights?
– Well-at … Uh-uh …
Voice wife
– Just your dad is always better to know how and what to do!
3. kayman4 :
Watching for 15 seconds, as the inevitability of impending torpedoes aboard my battleship, I realized how the tanks was merciful "vanshot" from the "arts" – a quick and painless.
4. Morwis :
When you go by car to another city, and the child is naughty without end, you begin to understand that the presence of chocolate is more important than remkoplekty, first aid kit and fire extinguisher together …
5. Stepan_Razdolbaev :
Start a random battle. Both teams one Rhm.-Borsig Waffenträger.
General chat.
Someone from the opposing team, "And we have the" Borsch "red … :("
answer some of the Allies broke: "And our green! And, along the way, with eggs".:)
6. bolt1456 :
After the destruction of the enemy without glare.
– Holmes, brilliant! But how did you know that the enemy is there?
– Elementary, my dear Watson.
– Deduction?
– No. Olenemer!
7. y6uJIBpoge :
distracted from the case of tanks for 15-20 minutes. At the computer sits docha.
Daughter: "Oh, Dad, can I look your tanks?"
Me: "Yes, docha, of course. Just do not go into battle. And do not sell anything. "
return in half an hour …
Daughter:" Pa! I changed the names of your tankers. And they were ugly. "
Source link.