Dear players!
It is time to take stock of the weekly contest " WoT funny! " for the period c 2 to 8 July. The winners of pictures in the near future will receive 3000 , the authors of the best quotes – at 1000 .
[1,999,019] See the rules of the contest can be here .
I place
_IL76_ [1,999,035]
[1,999,036 ]
Mr_Axell

Writes fighter Clan:
– Captain, I have about a month will not, can not play ..
– What happened? – broke his leg …
– I knew that you are playing your feet!)) Let's Get Well.

II place
III place
danilavixunec2002 [1,999,135]
[1,999,021]

[1,999,040]

GooseTankist

I had a friend in the tanks … A good lad, often chasing squad, LBZ performed … A friend of a friend is not particularly known, as they say, nothing more, only the platoon), but was at a friend of a joke: sometimes scary rakoval not I respond to the message and generally behaved very poorly …
But the next day everything was in order and we can work together again popinyvat random. Dubbed its working for such transformation and not particularly delved into such strange moments of his behavior. Yesterday threw priglos, went into battle, Catan. And he took so moved at the center, where suddenly and merged. In disbelief I write: "Yes Che Well wrong with you, what Che merged?"
Everything fell into place when the answer came: "Dad is sleeping, I lick any interpretation gavori imu".
Whinnying and cried: )
IV place
CET0VSV [1,999,035]
[1,999,021]
[1,999,040]
[1,999,186] ITMOBIT [1,999,040]
[1,999,031]
[1,999,049 ]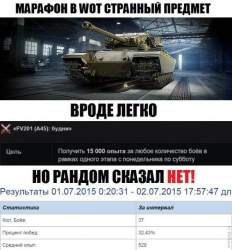 Once Jovi returned home earlier than usual, but the door was locked from the inside. Then he rang the bell. A few minutes later Margo opened. Jovi immediately began to look for. The first thing looked in the closet – it was empty. Then he looked under the bed – the same one. Suddenly his eyes fell on the curtain behind which a suspicious silhouette. He walked confidently, drew back the curtain and saw what most feared – artillery.

V place
Francuz64 [1,999,035]
[1,999,021]

Hellfire_tactics

got me an old metal cabinet for service needs. Excellent replacement safe, that's just only one key, and should be at least three. Traveled a bunch of shops anywhere so do not be taken: the old key, such locks is not produced, blanks for him there. Done by hand for a long time, troublesome, very expensive and without guarantee of success. He came, probably, in the hundredth workshop to give the key to the master, waiting for the verdict. By the way, in order not to lose a single key that hung on his stick with the symbols WoT . Master – a young man, carefully examined the key, at least carefully – key, then said the same things, talking to other studios, about the inability to manufacture, and at the end added that colleagues tankman still try. I asked to call in a week. As a result, a week later I had two new key for a nominal fee, the new skillovy sovzvodnik, which together carry LBZ.
VII place
1980_KoLyAn_1980 [1,999,135]
[1,999,021]

PrO100_TaNkEr_2001 [1,999,040]

[1,999,031]

[1,999,049] [1,999,325] [1,999,021]

[1,999,040 ]

When you have remained 1% of the points of strength, FV215b 183 is not so terrible.

[1,999,040]

[1,999,070]
[1,999,005]
[1,999,341]
Note:
contest «WoT joke!" – weekly.
Winners are selected based on rankings, scored for the reporting week WarGag.ru.
About all Current Activity in World of Tanks, you can learn from .
Source link.