Dear players!
It is time to take stock of the weekly contest " WoT funny! " for the period from 9 to 15 July. The winners of pictures in the near future will receive 3000 , the authors of the best quotes – at 1000 .
[1,999,019] See the rules of the contest can be here .
I place
JIeMeHTui

AZAZE ___ L

On a Soviet air base was a hangar, which had a dent in the roof. On the inner side. And not one, but many, many times if hollowed.
And the question of the inspection, what is this nonsense, he was told where these dents. I do not know how he's got face contorted.
But the point is this: there are planes in the hangar, their service including conscripts. And, you know, the great climb, while nobody sees the cockpit and imagine yourself valiant fighter, destroying American "Phantoms", or desperate attack aircraft, burning enemy tanks.
Well, to complete the entourage and all you can toggle poschёlkat buttons ponazhimat – the point is simple enough, as an experienced pilot rugnёtsya, of course, but for the second reset all settings to the desired position.
And everything seems to be harmless, like the aircraft is de-energized, like these pereschёlkivaniya not react any system. seems to be. Because there is the plane system that always works.
Catapult.
Bon voyage. To-ceiling windows.
II place
13ultima [1,999,035]
[1,999,036] [1,999,040]
[1,999,091] KoTukc [1,999,040]

[1,999,031]

[1,999,049]

Tense battle, none of the parties does not want to give a victory.
Everything froze all hiding .
After about 4 minutes of complete inactivity silence was broken by the sound of artillery shells flown away. There hit!
enemy – in Hangar (probably the last shot was lit up at random).
Player Yelp destroyed tank in the chat:
– You like me figured out? !!
[1,999,114] Answer artillery:
– On IP .
III place
TranceandreW

BomberMan_by

"Pacific Coast" . After a protracted battle enemies remain on the defensive at the corners. On the capture of calls in fulovy stock HF-3, who was riding in a straight line the whole fight. Then, from somewhere flies E25 1 HP and a bushy breakdown of the whole body. Also becomes the seizure, not daring to help in finishing. HF-3 looks at it and then gives: "You would anoint zelyonkoj."

[1,999,040]

[1,999,070]
[1,999,005]
[1,999,024]
[1,999,026] IV place
Hellfire_tactics

Dmitri7412

map "cliff", HF -2 in the top. He did not go for all the strands of the lighthouse, and became of stone and svёlsya somewhere ahead.
Ally: "KV, go over all, you bundle!"
KV-2: I do not bundle, I horizontal Art!
V place
BigDrifterMen
A3ATukk [1,999,040]
[1,999,031]
[1,999,049]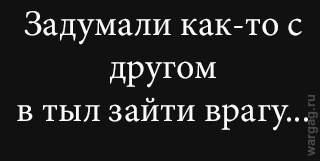 Runs LBZ LT-15, all day for the sink drain, finally, "Prokhorovka", we reach the promised bush no glare, I stood up, including the network, sterotruba. Ten seconds from getting blind vanshot arts … Kota not seen or heard the second day.
VI place
akvapelbko

andriy_dem7

From the story colleague at work:
"Yesterday played tanks, suitable wife asks her computer, persuaded her to another fight.
Poorly lit up, I merged in the first minute of the fight, and the devil pulled me to say," If you fast, it is not considered ". Then I regretted it as his wife started me to quote.
VII place
King_of_Tanks_Kiev

USSR_1971 [1,999,040]


From overheard.
– Lucky you, Lena, our men on Fridays in the bath, in the garage. Come back in the morning chertikakie and won your fingertips!
– Oh, girl, then at least your back …
Source link.